The TLDR is that I have created a new part kit. You can download it, and create new parts with Inkscape. Like the official examples, but better.
Fritzing New Part Kit on Github ~~~ Download Zip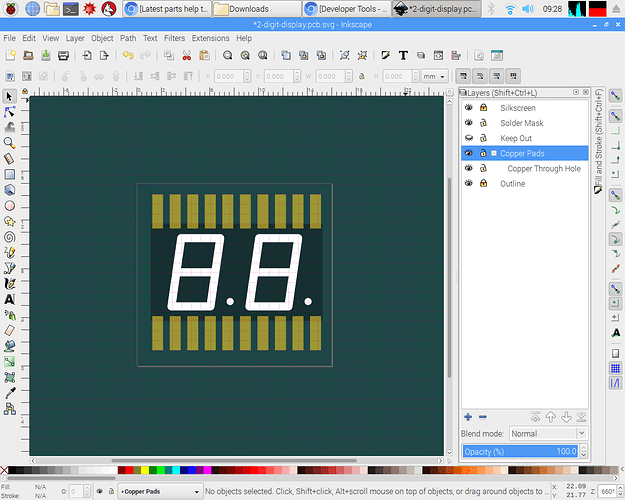 When creating new parts, I was getting regularly confused about the copper layers, and all of the hidden features that the new parts guide doesn't seem to cover.
What these templates can do for you
Visualize all the groups in the layers panel
Grids, & lots of them
What these templates cannot do
Holes without copper
How it works
Hi there. My name is Wray, and I'm a web developer, SVG enthusiast, Inkscape expert, and Fritzing intermediate. So all I really did here was add all of the syntactic sugar that Inkscape uses to pull standard SVG elements into the user interface. That also includes meta information that allows helpful stuff like grid sizes and colors, snapping rules. There are 3 templates, one for each view, Breadboard, Schematic, and PCB. For the breadboard and schematic, the best thing is just having a grid that matches Fritzing's. I also put the pins on an upper layer/group so that you can select the more easily in the part editor. The PCB template is obviously more complicated, and I'd like to add more features if possible. I'm especially still confused about if copper1 should be nested in copper0 anymore as it seems to have changed. Documentation is hard to find which is why I made these.