This is a continuation of another thread that went off topic.
Thanks Peter for making this. I've been playing with it over the weekend. It's not ideal (as you say), but also I sometimes need to common some of the pins together and your text label idea doesn't allow me to do this.
Inspired by your idea, I've been working on the original and have modified it into sub-parts, but with individual legs this time. I've given it useable legs to both ends of each resistor, but bussed them altogether in the fzp (as you did).
8 Resistor Network-multipart.fzpz (5.5 KB)
It seems to work as desired, see screenshots below, although I'm sure the part checker program will throw a wobbler with all the pins having the same name!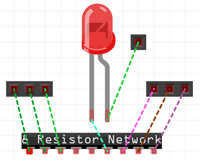 I've got a feeling that it might bring some bugs to the surface. Can you see any potential pitfalls?
Thanks