I've got a question/challenge…
I have created a resistor network with 8 resistors networked together, connected to one common pin (pin1).
https://forum.fritzing.org/t/8-resistor-network-bussed/14069/2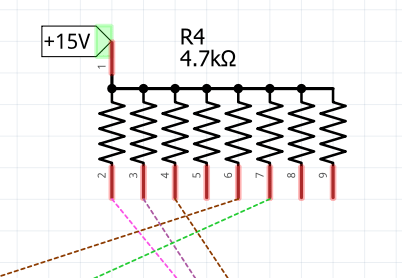 These resistors are used all over my schematic for tying up signals to 15V. Ideally I need subparts so I can place each resistor where it is needed, but I'm not sure how to do this as all the subparts would share a common pin. I was wondering if a Net Label could be used as part of the subpart?
Has anything like this been done before? Any suggestions?
Thanks