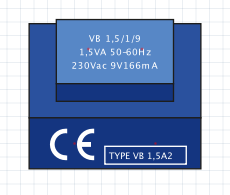 VB 1,5/1/9
Short circuit proof PCB transformer
PDF specs
VB1,5-1-9.fzpz (7.3 KB)
EDIT: PCB sizes were wrong. Fixed.
EDIT2: Wrong file.
You are also missing terminals in breadboard view (not that I necessarily think this is a good thing to be putting on a breadboard …) As well the gerber drill file indicates two holes at 0.038648 and two at 0.038408 when I expect they all want to be 0.038 as the standard drill size (which the fab house may round up to the next largest size which may not be what you want).
Peter
Sorry, I uploaded the file I used for my home made PCB. I'll upload the regular one.