Hi,
I am looking for the following DS3231 circuit as a fritzing part: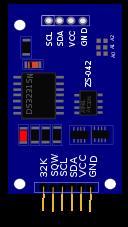 I have found this link but the part I can download is not the same as the image suggests.
So far I LOVE fritzing, looks like an amazing tool to use, but I think that creating a new part is an overly convoluted process, requires 3rd party applications, instead of just having a simple part editor. Is this true, or its just me not understanding what we have.
Thanks a lot!
Istvan