Capacitance Sensors
Capacitance sensors detect a change in capacitance when something or someone approaches or touches the sensor.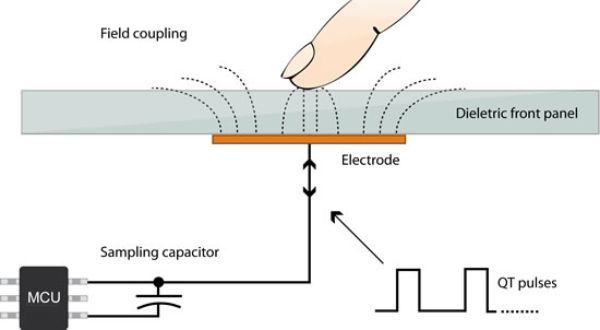 The electrode of a touch sensor represents one plate of such a capacitor. The corresponding 2nd plate is represented by the environment of the sensor electrode (to form a parasitic capacitor C0) and another conductive object, like a human finger for example (to form touch capacitor CT). This capacitor, i.e. the sensor electrode, is connected to a measurement circuit. The capacitance of the sensor pad is measured periodically. If a conductive object approaches or touches the electrode, the measured capacitance will increase. This change is detected by the measurement circuit and converted into a trigger signal.
Part 1: Making Capacitive Electrodes from Copper Fill
In this example I will illustrate on how to make Capacitive Electrodes from a single PCB object or a combination of objects using Copper Fill.
An electrode is simply the patch of conductive material on a substrate that forms the sensor. Common shapes are filled disks, squares and rectangles.

Step 1: I have placed five objects on the PCB from the Fritzing Core Parts (Solder Pad, Copper Fill Block, Through Hole, Logo Image, and the fifth one is made up of 2 - rectangle Solder Pads and 4 - Through Holes to give it rounds corners).

Step 2: I set the Top Copper Layer to Clickable only, then from the Routing Menu, I clicked Copper Fill (top), this will create a Copper Fill Template.

Step 3: I then locked the Copper Fill Template to keep the Copper Fills separated in the next step and deleted all objects.

Step 4: , From the Routing Menu, I clicked Copper Fill (top), to create the five Copper Fill Electrodes. Each Electrode will have it's own trace connector point, called Connector0

Step 5: Unlocked and deleted the Copper Fill Template.

Step 6: Ran the traces from the Copper Fill Electrodes, Connector0 to the 5 - pin connector. These five Electrodes can all be used as Capacitive Touch Pads and will be covered with Soldermask from the fab house.
Reference:
Basics of Capacitive Sensing and Applications ~Texas Instruments~
Capacitive Touch Sensors ~Fujitsu Microelectronics~
The Art of Capacitive Touch Sensing ~Cypress Semiconductor~