This is a hi and help plea from a total novice to everyone that can assist please.
Yes Vanepp, I think that you are about to read a post from someone that's even more of a novice than you were!
I'm in the process of trying to make a VERY simple pcb with 2 off 8 pin relays, 2 diodes, a capacitor, 5 off input wire connectors and 10 off output wire connectors!
I initially played with the Fritzing programme to see how easy it was to use and created a pcb and schematic that appeared to work using the parts already in the parts bin.
Now I want to make the same using the correct size relay pin spacing and connectors that I can use for "flying leads" to create a pcb I can use, but I'm not making any progress fast!
There are questions like what size is a "mil" for pin spacing and why can't I edit an 8 pin relay for my own purposes etc?
I've tried to create the relay in Inkscape, but can't open it in Fritzing and don't have the computer skills to fathom out how to do it either.
I've read through some of your posts looking for assistance, but get totally confused with the terminology you all use.
This is where I'm at now really.
Attached is my initial try but I now need to create one that can take the relay that I want to use, which is an OMRON G2R-2 type 8 pin relay.
AntiStress Box2.fzz (24.6 KB)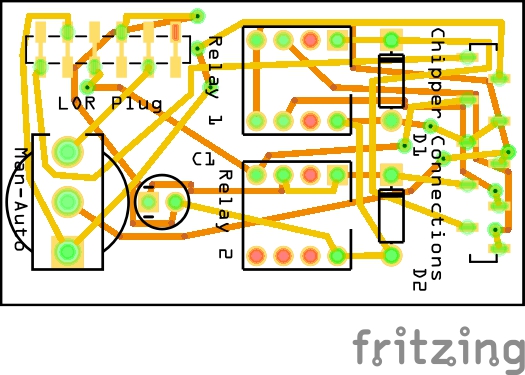 Any assistance that you can provide would be very appreciated.
Cheers,
Rich