So, I am super new to Embedded and anything hardware related (I'm in school for Software). I took a pretty basic Embedded course last semester and my semester project was to create a "Smart Window Blinds" controlled with Alexa.
I'm trying to order a PCB, but I'm concerned about a few things. Obviously on a Breadboard you have the power rails, on mine I have one rail with 12v and the other is 5v down from the linear voltage regulator.
• On my PCB design all the GND'S are routed to one GND pin on the Stepper motor driver (MP6500) and then that GND routes to the Capacitor connected to the voltage regulator…is this correct? Should they all route to the appropriate capacitor instead?
• I put all my GND traces on the bottom and then filled the bottom with copper, is this good? Should GND be connected to the GND "circles" that were placed on the PCB after I added the copper bottom?
• Same goes for some of the power pins. Like the SLP on the stepper driver is connected to the VMOT pin and then that routes to the 12v side of the voltage regulator, should SLP go directly to that as well? Should they both be connected to the Capacitor (like GND) instead of directly to the Voltage Regulator?
• Lastly, I do not understand schematics very well. I do not know if they are necessary in the production in PCB's? Also, are the GND connections correct on the Schematic?
Sorry, I know this is a lot! Please be nice, I'm very new lol.

Below are my Breadboard, Schematic, and PCB design. (Actually I can only put one pic in a post)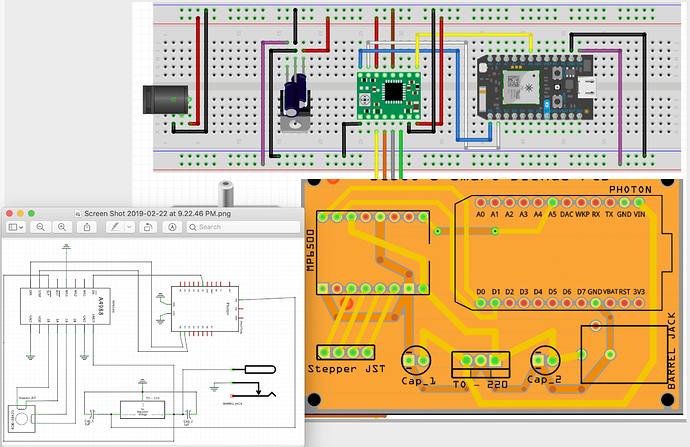 MP6500_blinds_PCB_Copper_Bottom.fzz (69.9 KB)