Fritzing 0.9.6 and 0.9.8 on Windows 7
I was just testing a new part that I'd made, when Fritzing crashed. Everything seemed fine with the part, but after some time, I wheeled the mouse and the program crashed.
Trying to reload the part I get the message "There is already a part with id …"
I read the post fritzing-claims-parts-loaded-to-bins-already-but-parts-cant-be-found and I can see my part files in
C:\Users\Mick\Documents\Fritzing
but the folder
C:\Users\Mick\AppData\Roaming\Fritzing
has only one file buried in fzz called "lockfile___.txt"
If I do a parts search, it finds my part. I'm not sure where, but I can drag it and use it normally. If I right click it the "remove part" is greyed out.
I've tried to "regenerate parts database", I get this error.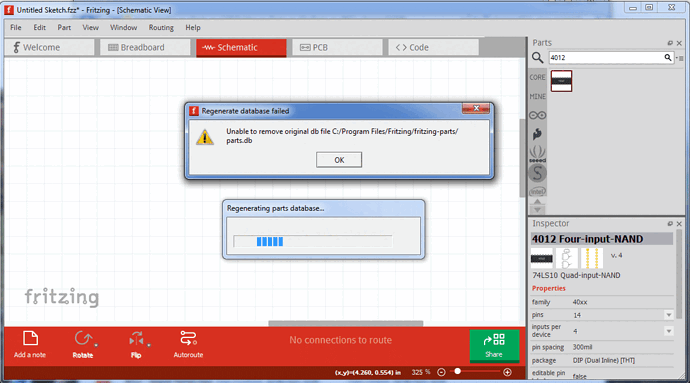 If I run Fritzing as Administrator, then the program crashes during parts regeneration.
I've upgraded to 0.9.8, but that hasn't made any difference.
How do I remove this part or move it into my parts?