Not sure what classification of BUG I'd call this… Fritzing's .SVG export on 'larger files' seems to have a import issue into FreeCAD.
This is what I am trying to accomplish as a final result.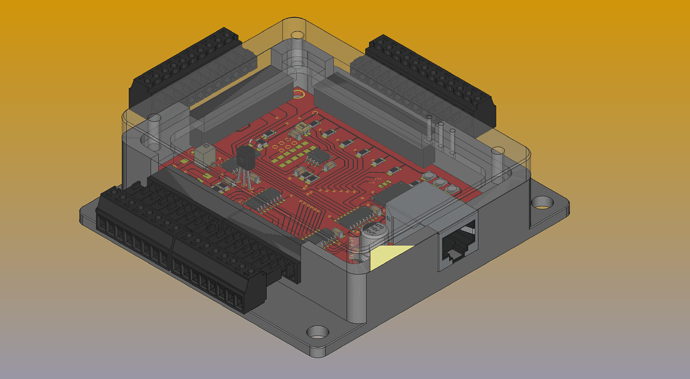 I use the copper top .svg export for a basic 'board look' as you can see in the picture. This is a representation of the finial product in 3D. I'm going to use these designs to go after a trade-mark threw the USPTO. I have 3 more designs to finish.
The problem happens with larger Fritzing .SVG exports. There is some extra code in the .SVG file, this issue keeps the lines from being properly imported into FreeCAD. Do I need this aside 'looks'? The simple answer is no. BUT, I am going for full effect here.
So this is the direct Fritzing .SVG files in question.
mEgarAt_etch_copper_top.fzpz (359.7 KB)
(rename to .svg)
I've uploaded the file, but it wont even show here… Probably the issue I'm talking about…
I used the .pdf export from Fritzing as a convertible file for my workaround. pdf zipped
mEgarAt_etch_copper_top_pdf.fzpz (37.2 KB)
(rename .pdf)
So the workaround that allows an .SVG import into FreeCAD is a program called, pdf2svg.
So instead of being able to directly work with a Fritzing .SVG export. I have to export as a .PDF then use pdf2svg to get a file that is ALMOST clean enough to import. After that I ran another program called scour to cleanup the new .SVG file. Then it imports into FreeCAD.
So here is the re-spun .SVG file done with pdf2svg for import


That is the file before running scour


after running scour
I have not dug into any of the original Fritzing .SVG exported code. BUT, it would be nice to find out what code Fritzing is inserting into these .SVG exports that make them incompatible with FreeCAD(& whatever other programs). Inkscape seems to open the original Fritzing .SVG file no problem. SO it could be a FreeCAD issue. But from my understanding FreeCAD is all python scripting for importing into FreeCAD, with opencascade binding of some sort.
Not something I have a ton of time to spend on, given I have a viable workaround. BUT it would still be BEST for a direct export to 'just work'