I've noticed that, when it comes to wearables, there's no simple way to include a display, such as one might wear on the wrist. (At least, I haven't found any.) So I figured the next best thing would to to try to design one of my own.
The character LCDs I like are the ones sold by Adafruit; this one in particular has my attention. The diagram below shows my (hopefully) sewable PCB design.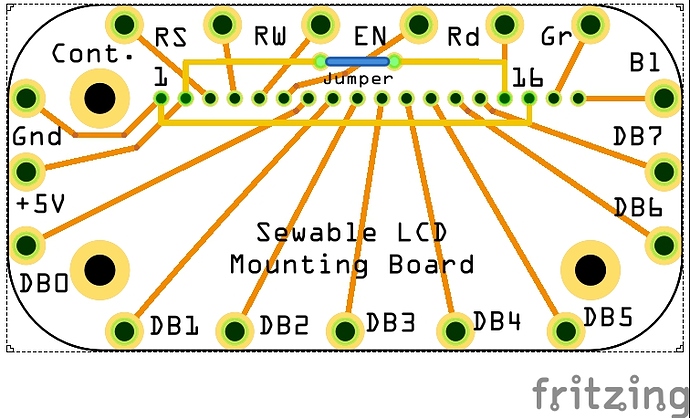 All it's meant to do is break out all of the pins in a way that it can work with either 16- or 18-pin LCDs. The mounting hole in the upper right corner is meant to align with the one on the displays; the two lower ones should contain just plugs, to give the display board a little extra backing.
And I'd like to get some feedback before I go and spend money on a test board (or post the Fritzing files for someone else to do that).
My questions:
Is there anything wrong with the wiring? Is there a connection I've missed, or that I've made that shouldn't be there?

Are the labels correct and clear enough? (Assuming the person is using Adafruit's tutorial.)

Should I increase the board's size to match up all the mounting holes on the display board?

Does this look appropriately sewable?
I'd like to hear from anyone who has experience in these areas, especially the last two.