¿Alguien sabe si el programa de Fritzing cuenta con este sensor?
A search in core parts for hall effect turns up a couple of hits: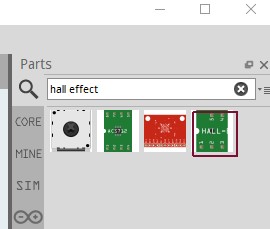 a google search of the form "fritzing part hall effect sensor" turns up a bunch more. If they won't do you would need to provide a data sheet or web site for the part you want.
Peter
via google translate:
Una búsqueda en las partes centrales del efecto hall arroja un par de resultados:
una búsqueda en Google de la forma "sensor de efecto hall de parte fritzing" arroja un montón más. Si no lo hacen, deberá proporcionar una hoja de datos o un sitio web para la pieza que desea.