On the web page you referenced, on the line below the "Qwiic JST Connector - SMD 4-pin (Horizontal)" title, just to the right of "ROHS" is a tiny white on red icon. That links to this page which points to the sparkfun Fritzing parts repository. There are several Qwiic parts there. I did not check to see which one matched this part.
It doesn't appear so but this should do the job.
Qwic-1mm-JST-connector.fzpz (4.6 KB)
As always print out the pcb footprint at 1:1 and check it against a real part as I don't have one …
Peter
I think Sparkfun did supply a part file. At least QwiicOnBoardConnector.fzpz looks like the right file when I load it into Fritzing.
Yep, I found that one, but it is vertical mount (when the OP wants side entry) and isn't smd which the one he is looking for is. I think it is also 2mm pitch rather than 1mm like the part he wants.
Peter
This enabled me to find the part I was looking for. Thank you microMerlin!
Check the pcb footprints, because the ones I found are through hole not smd!
Peter
It looks right to me.

Is that the part I posted above, or one that I missed on the Sparkfun site? If it is on Sparkfun would you please post the url so I can figure out why I missed it please?
Peter
No, MicroMerlin pointed me to the little icon just to the right of the part on the Sparkfun Website. https://www.sparkfun.com/products/14417 There I saw this:
So I went back to Fritzing and searched for jst and it was there! I just never found it before.
Interesting! Do you have the Sparkfun repo loaded? On 0.9.6 on Win10 a search for jst doesn't turn up this part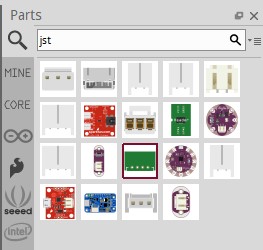 and when I did a check for updates, I discovered a 0.9.6 bug in that the parts folder isn't permitted correctly!

I'll grab a current copy of the Sparkfun repo and see if I find it in there.
Peter
When I got that error message I went in and change the permissions on the fritzing-parts folder to full control. Then checked for updates.
BTW: I don't know what Sparkfun Repo is, so I don't know if I have it loaded.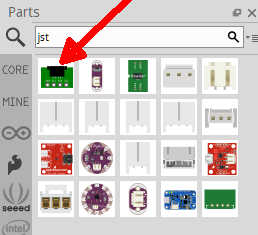 As far as I can see that is the part I made and posted above. There doesn't appear to be one in the Sparkfun repository on github (I just downloaded a current version and tried it) despite what the message on their website says. So before ordering boards you need to print out the footprint and check it against a real part to make sure the footprint is good. I'm just about to report the fritzing-parts permissions issue as a bug. I think the installer should be able to set the permissions correctly (I also set full control which fixes it.)
Peter
I believe this is the part you posted.
Here's what happened, I read your post and clicked on the part. I also read the post pointing me to the Sparkfun website where they talk about it being in the fritzing files. So when I tried to find it searching for jst, it must have been your part that came up.
Sorry for the confusion.
Now, I downloaded the Sparkfun Fritzing repo and unzipped it. Now how do I make it part of the Fritzing libraries?
In the unzipped repository you can load the .fzbz file via File->open->SparkFun Plus.fzbz and it will load all the parts in to a new bin (takes a while!) If on exit you choose to save changes it will keep them. What I usually do is pick the particular .fzpz file I want out of the parts directory.
Peter