Steps I took that resulted in the problem:
Insert a female PCB header with pitch 1.27 mm (0.05in) and smallest possible hole diameter (0.7mm/0.0275in) then connect two neighbour pins to the circuit using standard 24mil connections. When checking DRC, these pins are said to cover each other.
What I expected should have happened instead:
There should be ne error (obviously the circles from the pins appear to be too wide when zooming in).
My version of Fritzing and my operating system:
0.9.2/MacOS X 10.8.5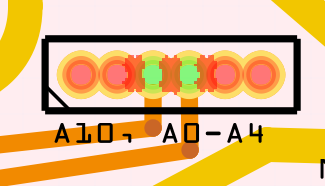 …
Please also attach any files that help explaining this problem