As I get towards the end of syncing by breadboard and schematic views, so I can move on the PCB, I encounter this problem. There will be a few rats nest connections appearing on the schematic that shouldn't be there. So I delete them, or try to, from the schematic. Then when I go back to the breadboard screen to look for them, affected parts have moved themselves off the board, leaving trails of blue wires to their original location.
I tried locking those parts, but they still move. And when they move, that creates new connections which break my project. It mainly happens to big multi-pin parts, like ICs and headers. Last night I spent about an hour entering a schematic and doing rough perfboard placement. But once it was nearly complete, I spend nearly two hours playing wack-a-mole with other spontaneous connections before I gave up. Often the part that would move would be the power header, and it would cause the power and ground leads to connect, creating nonsensical rats nests for the entire board.
This is with fritzing-0.9.3b.linux.AMD64 under KDE Neon 5.12.5, an Ubuntu 16.04 variant.
Since I can upload only one image, here's the "after" picture, where the left trimpot and bottom IC have moved. The other parts near the edge are deliberate, to indicate vertical mounting.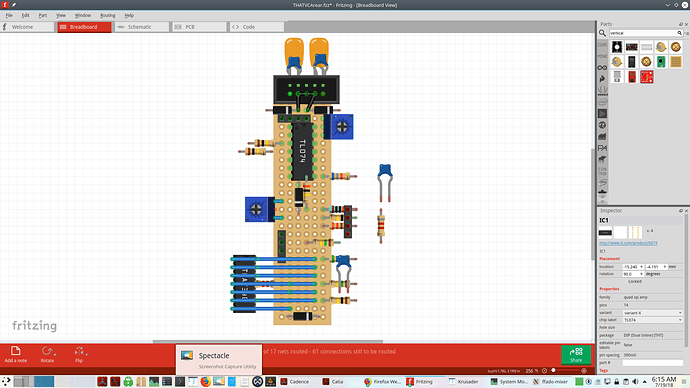 !