Old Grey and Peter -
Thought I would try to edit the Power Plug in core parts. I must have done something wrong. The error messages I am getting are as follows: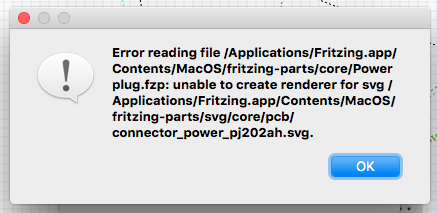 My process was as follows:
Selected the power connector within the PCB layout.
Right click to Edit part.
In new part editor, selected part and went to show folder.
Opened in Inkscape.
Edited the XML code to change the "r" from 6000 to 2500.
Edited the XML code to change the stroke from 2000 to 1250.
Saved the file WITHOUT changing the filename. I thought this would be easier, because in the prior edits when I changed the part name, I could not find the new part, even though I was confident that the path and folders were accurate.
I closed Inkscape.
I closed the parts editor.
Selected the parts from the core parts again … and the error message occurred.
Questions … what did I do wrong.
How can I repopulate the core parts with the original file?
Why do I not see the "edited" version of the Inkscape file in the parts folder. Are separate files created for PCB and SCH and Breadboard … even if I edit just the PCB?
I have looked at the tutorials … and except for the creation of a zip file and extraction, I think I have not violated any basic editing guidelines.
As an aside … it appears there is a version of the power connector that has smaller pins but they are not exactly as the spec sheet for the part I am using. It is called "sparkfun-connectors_power_jack_slot_pcb.svg".
The following message is mentioned as a possible problem when using this power connector: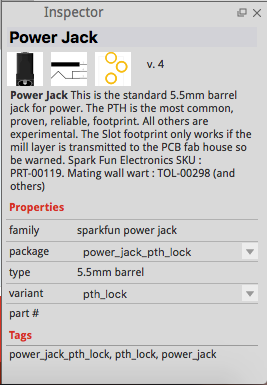 Would you please compare this or offer suggestions to which power connector image I should use to match the PJ-102AH power connector I am intending on using.
Here is the data specs for the PJ-102AH connector from Adafruit.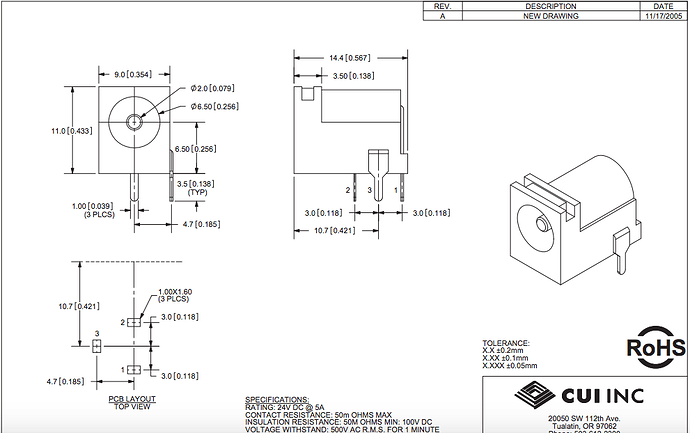 And here is yet another from Jameco Electronics:
This appears to match the larger holes that are the default "power connector" in the core parts bin. They are 3mm in diameter I believe.
It seems the more I think I have this done … the more details come up to bite me in the &&$%#!

Jim