Hello all,
For a project I used a small joystick 5 way switch break-out board (Aliexpress link)
I want to put everything on the PCB and a bigger 5 way switch.
So I want to put the following 5 way switch on the PCB in fritzing:
5 Direction way Tact Switch SMD 6 Pin 10109mm for Navigation (AliExpress link)
Find below an image of the button and pinout.
I cannot find this part in Fritzing and cannot find it posted on this forum.
Can someone please help me make this 6 pad SMD tactile switch? (only need PCB view)
And or point me to a good tutorial so that I can learn it?
Many thanks in advance,
Bou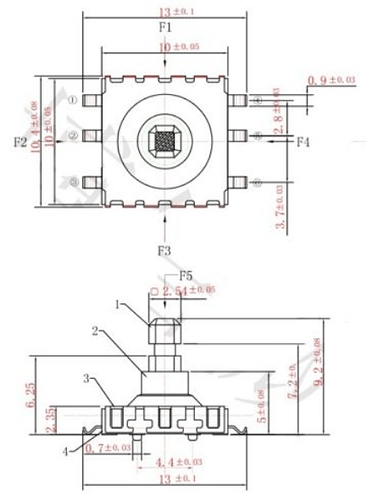 pinout:
Common
Left
Center
Up
Right
Down
FYI, I use this 'joystick' to navigate through a menu on an arduino and use 5 ports to read it. However you could give all the 5 ways different resistors and use 1 analoge port on the arduino to navigate.
FYI 2, I use Fritzing to design PCBs to make my project look professional! Eagle was difficult, but Fritzing saved my life!