CHIP (or more precisely C.H.I.P.) is an unfortunately-named single-board computer with an ARM-based processor. It is comparable to a low-end Raspberry Pi. I won't bore you with its general specs, but will mention that it has two 40-pin headers that bring out GPIO lines, power, etc. Here's what it looks like: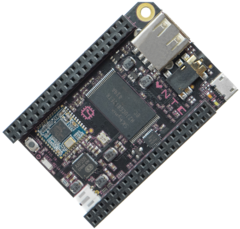 My interest is in making simple circuits which connect to CHIP's headers, and documenting the projects, especially for beginners. I like Fritzing's breadboard view, as it gives a very clear visual on how a beginner could assemble the project. So, just as Fritzing has various single-board computers, including RPis, I thought I might learn how to use the editor to create a CHIP device. But I didn't want to climb a steep learning curve if somebody more-experienced were already making one.
If nobody is working on it yet, is there a good starting place for a rank beginner to start? I figured to clone a RPi board and tweak it to be more CHIP-like.
Steve