New tool for IoT Gateway Prototypes: SeeedStudio BeagleBone Green Wireless unveiles at Maker Faire Bay Area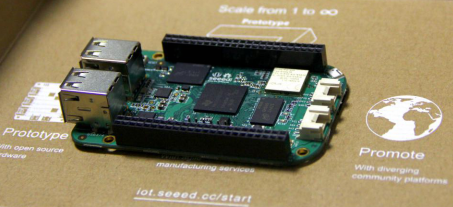 SeeedStudio BeagleBone Green Wireless is now taking preorders on Seeed's Bazzar. It is the first Wi-Fi + Bluetooth Low Energy (BLE) board from BeagleBone community. The full retail price is $44.9. Speaking of release date, it will be officially released at Maker Faire Bay Area on May 21st. Additional, SeeedStudio will showcase the lastest demo, Home Control Center based on SeeedStudio BeagleBone Green Wireless at its booth (booth number: RW 67).
Compared to the SeeedStudio BeagleBone Green it has a 2.4-GHz wireless module(2x2 MIMO Wi-Fi + Bluetooth)on board, making it more suitable for IoT prototypes. Take Home Control Gateway for example, it can be used as the remote of a wide range of TVs, media devices and more – you connect with it over Bluetooth to control everything from your phone.
SeeedStudio BeagleBone Green Wireless includes Built-in 2.4 GHz TI WLinkTM8 Module with two antenna solutions. The Wi-Fi feature supports AP + STA mode of communication, therefore you don't need to drive installations but develop directly after connecting Wi-Fi with your devices.
The new board also complies with Bluetooth Advanced Audio Distribution Profile (A2DP) for audio control in automation projects, which receives and transmits stereo-quality audio in high resolution.
To take advantage of wireless features, SeeedStudio BeagleBone Green Wireless is able to support Node-RED installation to wire IoT. Additionally, the core of the new board integrates with MRAA library, so users can program with more Grove modules.
SeeedStudio BeagleBone Green Wireless is a second product in partnership between Seeed and BeagleBoard.org after the success of SeeedStudio BeagleBone Green launched last June. Followed the modification of its predecessor, BeagleBone Black, it adds 2 Grove connectors, ditches HDMI connector and lowers down production cost. By adding Grove, Seeed infuses diversity of BeagleBone boards thanks to its openness and great community support.
Seeed is a hardware innovation platform for makers to grow inspirations into differentiating products. By working closely with technology providers of all scale, Seeed provides accessible technologies with quality, speed and supply chain knowledge. When prototypes are ready to iterate, Seeed helps productize 1 to 1,000 pcs using in-house engineering, supply chain management and agile manufacture forces. Seeed also team up with incubators, Chinese tech ecosystem, investors and distribution channels to portal Maker startups beyond.
Further information about SeeedStuidio BeagleBoneGreen Wireless: