This applies to the Current 12/05/17 Github Fritzing development version.
I thought I would see what your opinions were on this before I opened an issue on Github.
The new Gerber export uses the clipper library to polygonize everything that way it can define all the shapes as complete solid polygons rather than thousands of thin strips as the original Gerber export did. This is obviously better than the thin strips but it results in there being no circles/curves defined in the gerbers which is why Gerbv says there are no holes defined in the Mask or Copper layers (drill file is fine).
Even if a board house could use the new gerbers to produce boards I could see the new shapes causing issues on high speed circuits or high voltage circuits because the rings and curved traces are now made up of lots of little straight segments rather than smooth curves.
This is the copper gerber layer of the default pcb with a single via in the middle.
0.9.3b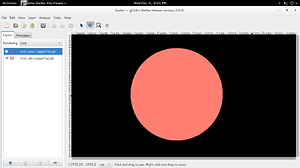 Development version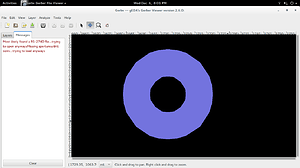 Overlay of the two showing they are not aligned with each other which makes it more of a problem.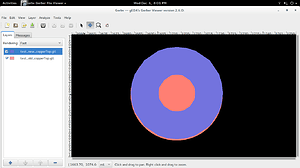 Gerbv shows the properties of the via as:
This makes me think the new gerber output does not comply with Gerber RS-274x standards.
The only solutions I can think of are:
Revert the new gerber export to the old one.

Rewrite the new gerber export to use the original traces and rings and only use the new export for the copper fill.