Hello,
I am really bothered because I wanted to have two circuits made with Fritzing 2015's last Fab round.
However when looking at the Gerber exports, there are broken wires everywhere.

Looking back at the Fritzing PCB, I notice that those wires appear with green nodes between segments. If one clicks on a breakpoint, all the breakpoints are highlighted, proving they are connected. However if I try to reconnect, the wires got completely mungled!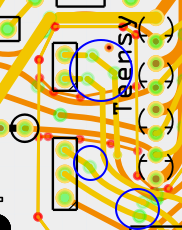 This mungling issue has been happening with most wires I wanted to change lately, even when they did not exhibit this disconnection issue.
Is there any chance to fix this easily and get those circuits built before 2016 or should I redraw every defective wire (providing there's no file corruption)?