While I suspect this is too late for you, here is a complete part (which to my surprise, other than loading slowly, seems to perform OK):
DFRobot_Mega_Sensor_Shield_v2.4.fzpz (110.2 KB)
If your current part is working for you, I would probably stick with it, although you may want to try saving a copy of your sketch for backup, then do a "delete minus" on your part and try substituting the one above for it. In theory (for me practice has been variable

) this will delete the part but leave the wires. When you place the new par, you then need to click on the end of each wire (in each view) and move it slightly to make it reconnect (the connection should turn from red to green if you are successful.) I sometimes end up having to delete the wire and rerun it to make this work. As noted earlier this part uses schematic subparts (because the schematic is so large.) That means that you can click on any of the squares in schematic and move it independently of all the others. So if you are only using some of the connectors you can pile the others out of the way (even on top of each other) to save space. The part itself almost fills an 8.5 by 11in space (typically the larges it is easy to print) which is what made this necessary. Below is the schematic view of the default part. Note the boxes are too close together to actually make connections to most pins: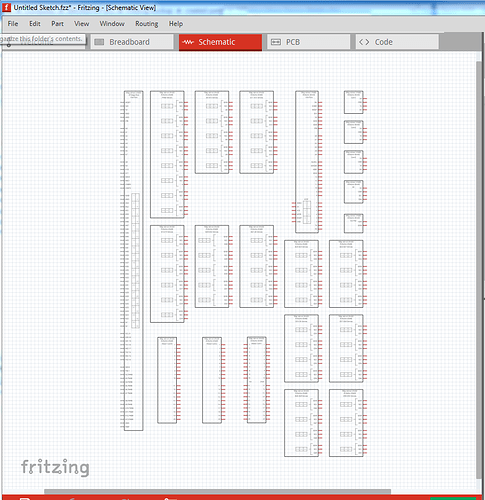 This is the schematic view of the test sketch where the boxes have been moved to allow connectors to be connected to them (to make sure all the connections go where I expected):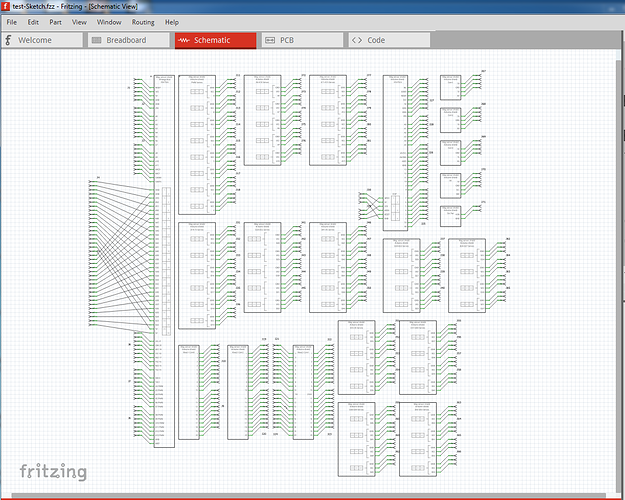 comparing the two you can see most of the boxes have moved from there original positions. As well, this part is designed to take the Arduino Due placed over the Due connectors on the shield. That should (but currently doesn't, which I will investigate when I have some time) make the connections between the Due and the shield in schematic. At present because the Due has a different schematic from the shield that won't be too useful. However an alternate Due part with a modified schematic that mirrors the one in the shield would produce the Due with all its connections to the shield automatically. A Fritzing bug (other than the current lack of connection probably due to positioning) means routing won't show as complete in breadboard but it does work. Below is the test sketch that demonstrates the part connects correctly:
test-Sketch.fzz (925.3 KB)
Breadboard is a mess as most connectors are piled 8 or 10 deep, but for testing it is fine.
Peter