Hello all!
New here. Just getting into this stuff and I've bungled my way through tutorials on Adafruit and I'm now gearing up for the project I started learning this for. I've gotten to the step of hooking/soldering everything together and made a diagram in fritzing. I could use some help/verification that I'm barking up the right tree and doing things correctly.
I'm attempting to make a model interactable/light up. Google Forgeworld Warbringer Nemesis to see the model in question(Since I'm limited on images & links apparently).
Current Parts list:
Adafruit Feather M0 Bluefruit LE
Adafruit 12-Key Capacitive Touch Sensor Breakout - MPR121
NeoPixel Nano 2427 RGB LEDs w/ Integrated Driver Chip
NeoPixel Diffused 5mm Through-Hole LED
Continuous Rotation Micro Servo - FS90R
Half Size Breadboard + 78 Piece 22AWG Jumper Wire Bundle(https://www.adafruit.com/product/3314)
So the idea is to light the body/torso of the model with roughly 6 LEDs and have each arm lit with at least one LED, or in the case of the gatling gun, have the servo hooked up so it can spin. Each gun/arm should have detachable connectors so other weapons can be swapped in.
I'm planning on placing capacitive touch points all over the model to control the state of different parts. I'm going to try the conductive paint to see how it works and if it doesn't I've bought some copper tape.
I've mostly prepped the model. Now I'm working on the wiring so I can test the setup before gluing everything in place and painting.
Here is the Diagram and project file. Not sure I've done what is necessary and I'm still learning terms. I have not added in the servo, but the intention is to make it so either arm can swap to it.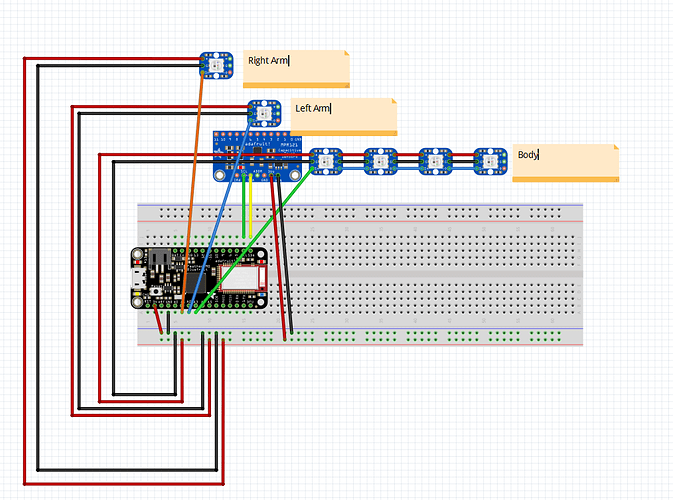 Hopefully this is the right file.
Warbringer Sketches.fzz (171.2 KB)
Any help/advice/tutorial links are much appreciated!