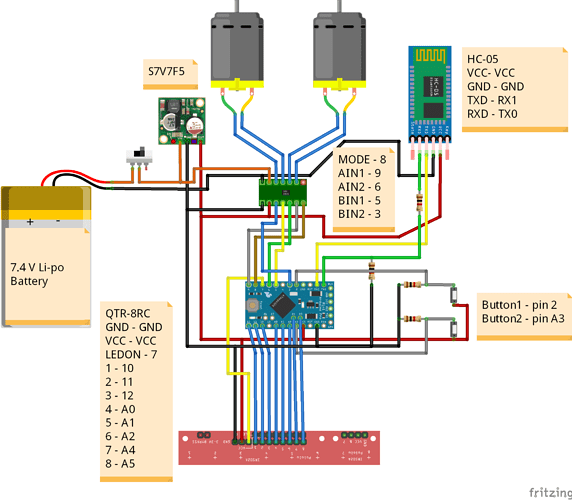 BU DEVREDEKİ HCS-05 BLUTOOTH MODÜLÜ ÇIKARSAK AYRICADA İKİ BUTONDAN BİR TANESİNİ ÇIKARMAK GEREKİYOR MU? YARDIMCI OLABİLİRMİSİNİZ.
via google translate:
IF WE REMOVE THE HC-05 BLUETOOTH MODULE IN THIS CIRCUIT, IS IT NECESSARY TO REMOVE ONE OF THE TWO BUTTONS? CAN YOU HELP ME.
There isn't enough information here to answer this question. It depends on what the software does with the push buttons. Removing the HC05 won't affect the push buttons in a hardware sense, it may affect the software, as it is unclear what the buttons do.
Peter
via google translate:
No hay suficiente información aquí para responder a esta pregunta. Depende de lo que haga el software con los pulsadores. La extracción del HC05 no afectará a los botones pulsadores en el sentido del hardware, puede afectar al software, ya que no está claro qué hacen los botones.