Hi all!
So I created an extension for Inkscape that generates a schematic symbol based on user input. Once you start this extension in Inkscape, a window opens for user input and has a couple of tabs.
The Schematic Symbol tab sets the size of the symbol, it only creates rectangular shapes. Input the size of the schematic symbol and desired name for the label.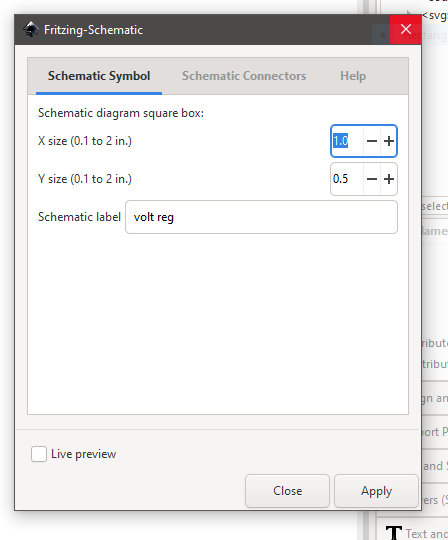 The Schematic Connector tab handles the connectors/pins for the schematic symbol: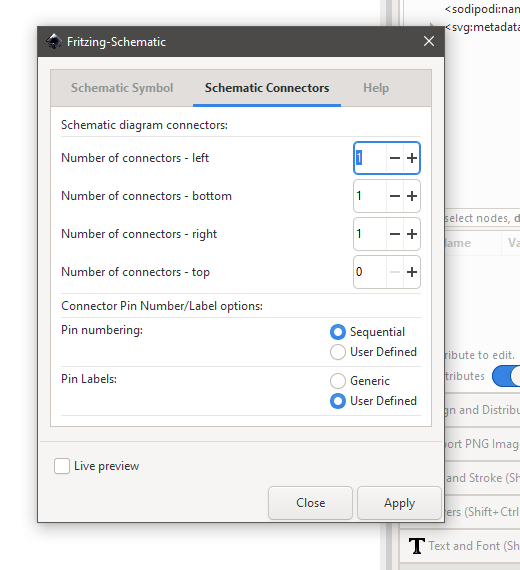 This tab allows you to set the number of connectors on each side to the symbol, and some options. Once the settings are made, clicking the 'Apply' button starts the extension. If any 'User Defined' option is checked, as the extension creates the symbol, it'll open a new window to get the user to enter pin numbers\labels. These windows open for each side of the symbol that has connector pins. Once finished, this extension will create a schematic symbol that can be used in fritzing. I hope…
Using the above screenshot settings, I created a voltage regulator schematic symbol with three pins. I entered the labels for the pins as prompted, and done. Took me less than a minute to generate that symbol. The final .svg I uploaded here:
https://drive.google.com/file/d/1eAzaouX3YPTpSiiQ2IBaeL8x3R-UrYqQ/view?usp=sharing
Because .svg and .zip files don't work here.
I would love for someone to look at that .svg file and tell me if it will work in fritzing. I used it and it worked in parts editor.
It doesn't create terminal ID's, but it could…
Is there any interest in this type of tool?
Randy