I want to order some PCB's but the "Fabricate" link appears to be broken can you advise any solution please???
From the File menu use: Export -> for Production -> Extended Gerber (RS 274X) option. This will produce a bunch of gerber files. These files are the industry standard go between from electronic design automation software and circuit board manufacturers. With these files, any PCB manufacturer can make PCB's for you.
Randy
I'm experiencing the same thing. The direct link is not working for a few days now.
Works for me, just tried it in the UK
It is probably worth asking which link to the fab you are using? As @MrDanSuter said the link on the bottom of the Fritzing welcome page works for me (from Canada if that matters) and brings up the Ainsler site, but I think there may be other links around such as in projects (I rarely make boards so don't know where all the fab links are …)
Peter
The link I am using is at the bottom right of the PCB layout screen, when i hit Fabricate, first prices come up as expected then, the 401 message on the next page. Also if you go to File drop down menu and hit the "Order PCB" then the 401 message appears again. If I go to the Home page bottom right and hit Fab or go to "Produce your first Pcb" in the text box above, again the same 401 message.
Thank you for your response.
Thank You for that I will try that if the Fab links are not restored
Hmm, not where I was looking, but on Windows I get this when I do that: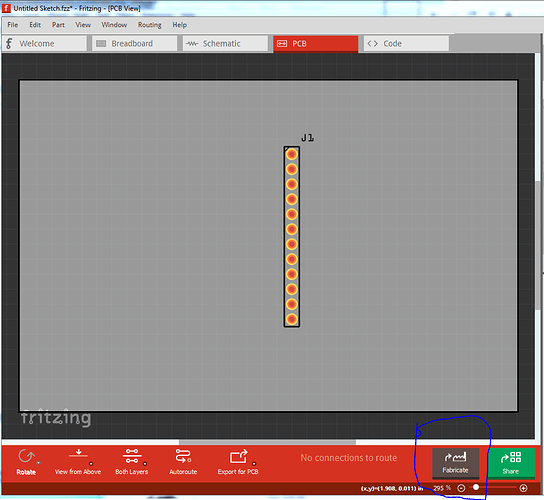 and clicking on the button gets this: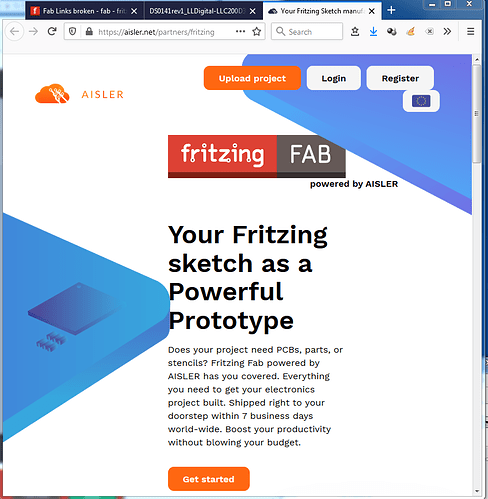 I just realized this is Fritzing 0.9.4 on Windows, if you are still on 0.9.3b the link may be out of date there. Best bet is to file an issue on github as @KjellM is likely the only one who can fix it. The link on the welcome page takes me to the same page as well I think.
Peter
latest version 0.9.4 released on Dec. 1, 2019
downloaded this the other day is it possible that the latest version did not correctly overwrite the old version using Widows 10 fully updated
It shouldn't have, as this link should be in the Fritzing source code I think (but I'm not sure.) I would try the url in the link above from your browser and see if you can get there outside of Fritzing (and if that works, if that link is what Fritzing is using.) I don't have access to or knowledge about the web site, so likely @KjellM is going to be your best bet for help. I expect they will be anxious to fix it though

. It might be worth trying Help->Check for updates in Fritzing in case it is in the parts repo and your version is out of date (which it shouldn't be) as well. That is the only other thing I can think of to suggest.
Peter
the file was downloaded using this link and the problem is apparent on that
page if you hit FAB the grey tab as in the screen shot below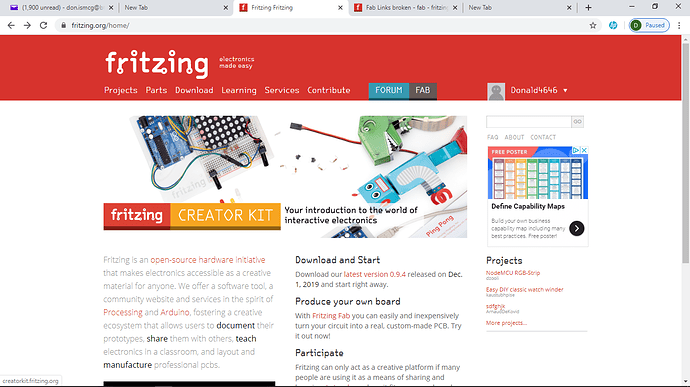 There was an issue with the server. It should be fixed by now and work with version 0.9.3b and 0.9.4 at least. I have also set an external alert so this would be detected faster if something similar happens again.
It should be working again since sunday afternoon.
Thanks Peter will try to get around it you helped greatly and i have ordered two batches of boards prior to this and they were excellent and i would like to order two new boards in quantity to joint the original you corrected for me
Kind regards Donald
our messages are passing in the ether