Yes it looks like it is fine. An issue is going to be heat in the regulator though. Depending on how much current this draws, the regulator may over heat as it will be dissipating around 4W assuming a current draw of 500ma. It would be a good bet to test this by breadboarding the 3.3V regulator driving a 3.3V Atmega board from 12V. You may need to use a buck regulator module to get from 12V down to 3.3 with minimal heat.
The traces outined in red on the edge of the board are too close to the board edge. The components and traces around the mounting holes are likely to close to the mounting holes and will interfere with the scews. As you note there are a bunch of overlapping traces and a power to ground short somewhere.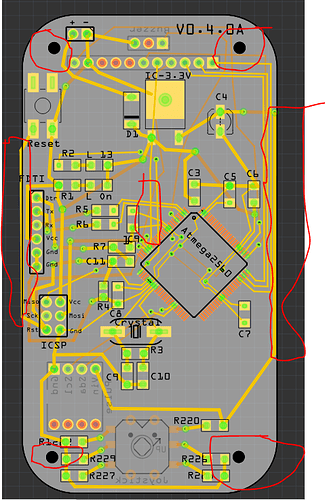 For your other board, I made a new part for the FTDI board, you may want to use that here as well. If you want to make modified parts you would be better to learn to make custom parts (which is not easy) rather than using the IC and renaming pins. There are currently bugs in that code which are showing up in your schematic.
ttl-234x.fzpz (4.8 KB)
I am still poking at your original board, I have it fully routed but need to clear the routing database corruption. Once I finish that it may give you an example of how to remove some of the vias.
Peter