In the past i have created coils and imported then in fritzing and with some hassle it usually worked. But in the latest version of fritzing it has become more difficult. to create such 'pcb parts'.
It would be nice if .SVG was allowed to be uploaded here on the forum.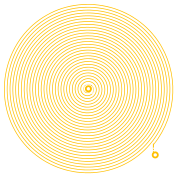 Ultimately it would be ideal if this would become a standard part in fritzing with the option to configure number of turns inner diameter outer diameter, and trace width. But for now it would be nice to just have a part that can be imported without too much trouble so that i can build a few custom coils in Inkscape.
My part has
a id=silkscreen layer (not visible in the png but it is there)
a id=copper0 layer
Can anyone help to make this work?