There isn't currently one. I can make one easily enough, but it won't be too useful. The output is USB connectors which in Frtizing usually have no connections so there won't be any output ports to connect to anything.
Peter
Meh, if its not too much trouble, could you go ahead and make it and put two (or 4; though 4 might look funny) connectors for the USB power poles?
Thank you!
This part should do what you want. It matches the real part (i.e. 2 outputs not 4) I could make a part with 4 outputs but it wouldn't match the real part. Pcb view is suppressed as not being useful (there is nothing to connect!)
Oiysgsi-buck-regulator-3A-Dual-usb-output.fzpz (10.2 KB)
It looks like this
and schematic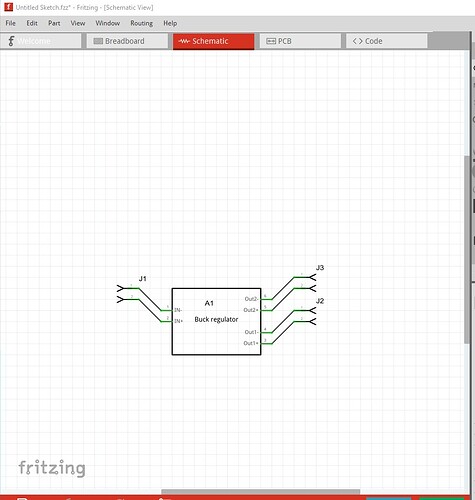 The output polarities may be wrong but since it is a USB connector just picking the correct wires should do what you want.
Peter
Dude! This is great for what I need it for.

Thank you @vanepp !!