Yet another Ebay special, this time a cheap small 6 wire slip ring. There have been large (40mm) expensive (>$20) slip rings available for some time which I have resisted. Then I came across these on ebay (search term "6 wire slip ring" will turn them up) for around $4. They are small (24mm) and will take up to 2A (although the wires are pretty small) and do 300rpm. They are used for rotating camera mounts usually but I can think of other uses as well such as a robot wheel with a gear motor driving the wheel, thrust bearings for mechanical strength (because these are only meant to get electricity across) and one of these to get power and direction signals to the motor /motor driver on the wheel . If you attach a shaft encoder (for position) and a steering motor (for direction) by turning the motor and wheel through the slip ring you now have an independently stearable drive motor (you need the shaft encoder to make sure they are all pointing the same direction

). Of course tilt/pan/rotate camera mounts are another use. In any case here is a Fritzing part, all three views. PCB is slightly odd in that there are only 6 pads for 12 wires, but the other 6 wires will connect to something off board and it doesn't make sense to connect both ends to one board (it can't rotate then which is the whole point). Complain of you see problems

.
6 circuit slip ring.fzpz (11.7 KB)
Edit: by request, a jpg of the bb view so you can see what it is: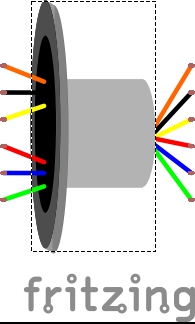 What you see is all stationary, the 6 wires out the right end are the rotating part
encased inside the smaller tube (with no mounting holes

). I suspect gluing something on or drilling a small hole or holes to strain relief the wires would be a good bet.
Peter