Hi all,
I need a RFM95 fzpz file. Do you know where I could get one?
Thanks very much,
Zeb
Hi @microMerlin,
Thanks very much for your help! Unfortunately this does not quite solve my problem as I need just the RFM9x chip without the breakout board.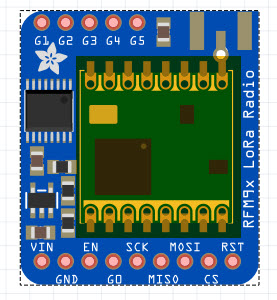 Is there any way I can get just the chip on it's own? If I have the chip I can easily edit it and route the wires!
Thanks,
Zeb
I did not see the bare chip in my search results. Perhaps someone else knows where there might be one.
The tutorial page includes a link to the datasheet for the bare chip, so someone here might create a matching part file. Unfortunately, one of the main people that would typically do that is currently without Internet access.
From that information though, what you really want is a part file for SX1231. Not the RFM95.
@ntm thank you very very much that is exactly what I need!
Thanks again,
Zeb
I'm glad that i could help. Please, note that there is now updated version of the Fritzing part.
(I need update it again. Because some measurements are now off a little bit.)
@ZebNZ: v1.2 is the updated version.