Hello everyone,
I was searching for a Fritzing part for a KY-040 rotary encoder. They usually come on a breakout board. But I wasn't able to find one, or rather a working one. Interestingly enough, one does find plenty Frintzing sketch images with one such part, but nowhere an actual part.
So I set out to create one myself.
KY-040_AZ_Rotary_encoder_v0.fzpz (13.8 KB)
This is the first time I created a part. Apart from encountering some weird behaviour on Fritzings part, it is working fine.
Things that I am wondering about or am unhappy with:
The part is created in a flat view (like lying on the table/breadboard) to scale. But it is a pretty large part, which means it is obscuring a large portion of the breadboard, which it actually doesn't in reality. Would it be better to have a top view, and how "top" would top be. I did this part in two days from scratch, so I concentrated on the flat view and did not try a perspective view, as I would like it to be in.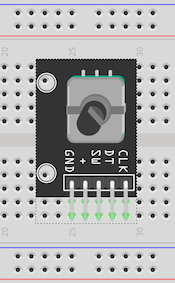 Sometimes in schematic view I find that parts are pretty large compared to the rest. I can imagine why, now. It is not very easy to find a matching size for strokes and font sizes. The core parts are no help either, as the Fritzing page preaches to use inches or millimetres as SVG dimensions, but they uses pixels themselves. Neither did I find any real common standard or best practice in the many (otherwise very helpful) tutorials.
For now I think it works for me, but maybe that is an area for improvement.
Edit: I forgot one.
PCB view: What to put on the silkscreen? I now only put the space on the silkscreen, where the breakout PCB would be located. That makes it clear which way around the pads are oriented, but it also makes them look a bit floating next to it. How would the silkscreen usually look like for such breakout boards with 90° pin headers?
Feel free to use or critique.
Cheers