As mention in the title, I'm looking for a kind of variable to override svg values (dimension, text, …). Are there any ?
ex:
On a drill connector like this one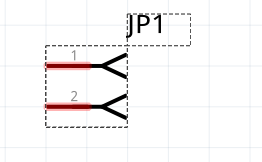 I would like to change the Pin name (1, 2 …) to something a bit more meaningful to me (Vcc, Gnd, …). So In the svg, 2, I would like to change 2 by Vcc.
A second case would be to change drill and pad dimension:

being able to change the 4.5 or 3 by other values.
A third case would be to activate/desactive graphs, dynamically changing the visibility attribute value from visible to hidden

thanks