Hello, I need to create a wiring diagram for a project I'm working on. I need a circular connector part, and I can't seem to find anything similar anywhere.
https://www.digikey.com/en/products/detail/jae-electronics/SRCN2A21-16P/1283269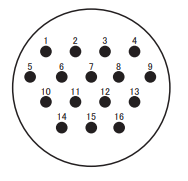 I'm using it to attach the wiring cable to my project box. The whole point is that I need to document what color wires go to where on the board, so I only need it to work in breadboard view.
Any help or guidance is appreciated.
Thanks!