BB view is very useful, and my suggestion incorporates that. I may not use it as much as you, but it's still there! I am a results-oriented person, and I tend to favor the simplest and easiest path to arriving at desired results. To this end; by suggestion was to simplify the parts process into a simple modular "group" of elements to serve the same purposes as the current parts and editing, without locking into a zillion parts that only serve one function. Here is a quick example of what I mean:
Let's say we want to incorporate an IRF540, and there is no part. Easy. In schem-view, drag out some pins, and "group" (function) the pins and attributes (Goup Name: IRF540, Part Class: Q, Pin Numbers: 1,2,3, Image: TO-220, etc.) It looks like this in schematic view: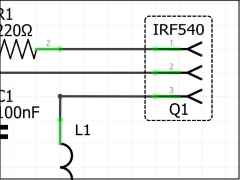 And connects like this in PCB view: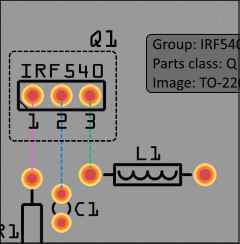 And appears like this in bread-board view: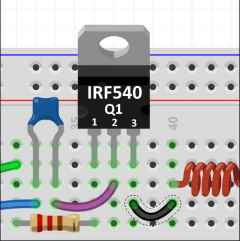 A handful of generic images including standard transistor types, adapter boards (non-specific like they are now, which all look the same but are repeated for each different part), resistors, and so on. Instant parts, without megs on megs of individual and difficult-to-edit parts, and always without the exact one you need. I'm sure there is a more logical or sexier way to represent them, but it's a quick example of concept. Is this too simple? What am I overlooking? Thanks for your input.