Hello, I've created 35 parts. Lots of them are provided by fritzing with wrong pitch (or maybe different variant), that I had to edit… Hope that will help someone…
Maybe, Most of them are already created, I did not found.
Maybe, most of them you can find also wrong, but I created them comparing with my parts that I work with.
I'm very lazy person. So, BB view of the new parts maybe look dull to you, but I worked till my self-satisfaction.
Please, check the description in the image before use.
I also provided actual picture of some parts…
If there is any error, problem, mistake… Please Let Me Know…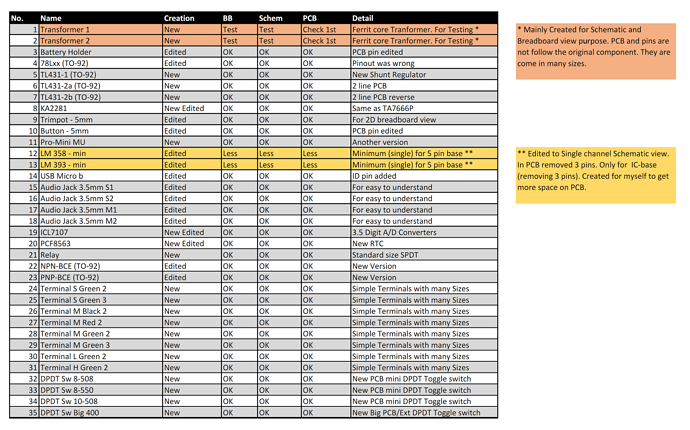 01. Transformer 1.fzpz (5.7 KB) (Ferrit Core * )
02. Transformer 2.fzpz (5.9 KB) (Ferrit Core * )
03. Battery Holder.fzpz (7.4 KB)
04. 78Lxx (TO-92).fzpz (6.6 KB)
05. TL431-1 (TO-92).fzpz (6.3 KB) (Shunt Regulator)
06. TL431-2a (TO-92).fzpz (6.4 KB)
07. TL431-2b (TO-92).fzpz (6.4 KB)
08. KA2281.fzpz (6.7 KB) (or TA7666P)
09. Trimpot - 5mm.fzpz (8.9 KB)
10. Button - 5mm.fzpz (6.1 KB)
11. Pro-Mini - MU.fzpz (19.4 KB)
12. LM 358 - min.fzpz (10.4 KB) (Single ** )
13. LM 393 - min.fzpz (7.6 KB) (Single ** )
14. USB Micro b.fzpz (7.1 KB) (ID pin)
15. Audio Jack 3.5mm S1.fzpz (7.1 KB)
16. Audio Jack 3.5mm S2.fzpz (8.1 KB) (Screw)
17. Audio Jack 3.5mm M1.fzpz (7.2 KB)
18. Audio Jack 3.5mm M2.fzpz (8.3 KB) (Screw)
19. ICL7107.fzpz (9.7 KB) (3.5 Digit A/D Converters)
20. PCF8563.fzpz (6.2 KB) (RTC)
21. Relay.fzpz (12.4 KB)
22. NPN-BCE (TO-92).fzpz (5.3 KB)
23. PNP-BCE (TO-92).fzpz (5.3 KB)
24. Terminal S Green 2.fzpz (5.2 KB)
25. Terminal S Green 3.fzpz (5.5 KB)
26. Terminal M Black 2.fzpz (5.3 KB)
27. Terminal M Red 2.fzpz (5.4 KB)
28. Terminal M Green 2.fzpz (5.2 KB)
29. Terminal M Green 3.fzpz (5.5 KB)
30. Terminal L Green 2.fzpz (5.4 KB)
31. Terminal H Green 2.fzpz (5.3 KB)
32. DPDT Sw 8-508.fzpz (5.3 KB) (8mmx8mm, 5.08mm Pin column pitch)
33. DPDT Sw 8-550.fzpz (5.3 KB) (8mmx8mm, 5.5mm Pin column pitch)
34. DPDT Sw 10-508.fzpz (5.3 KB) (10mmx10mm, 5.08mm Pin column pitch)
35. DPDT Sw 400.fzpz (6.0 KB) (6mm Pin column pitch, 4mm row pitch)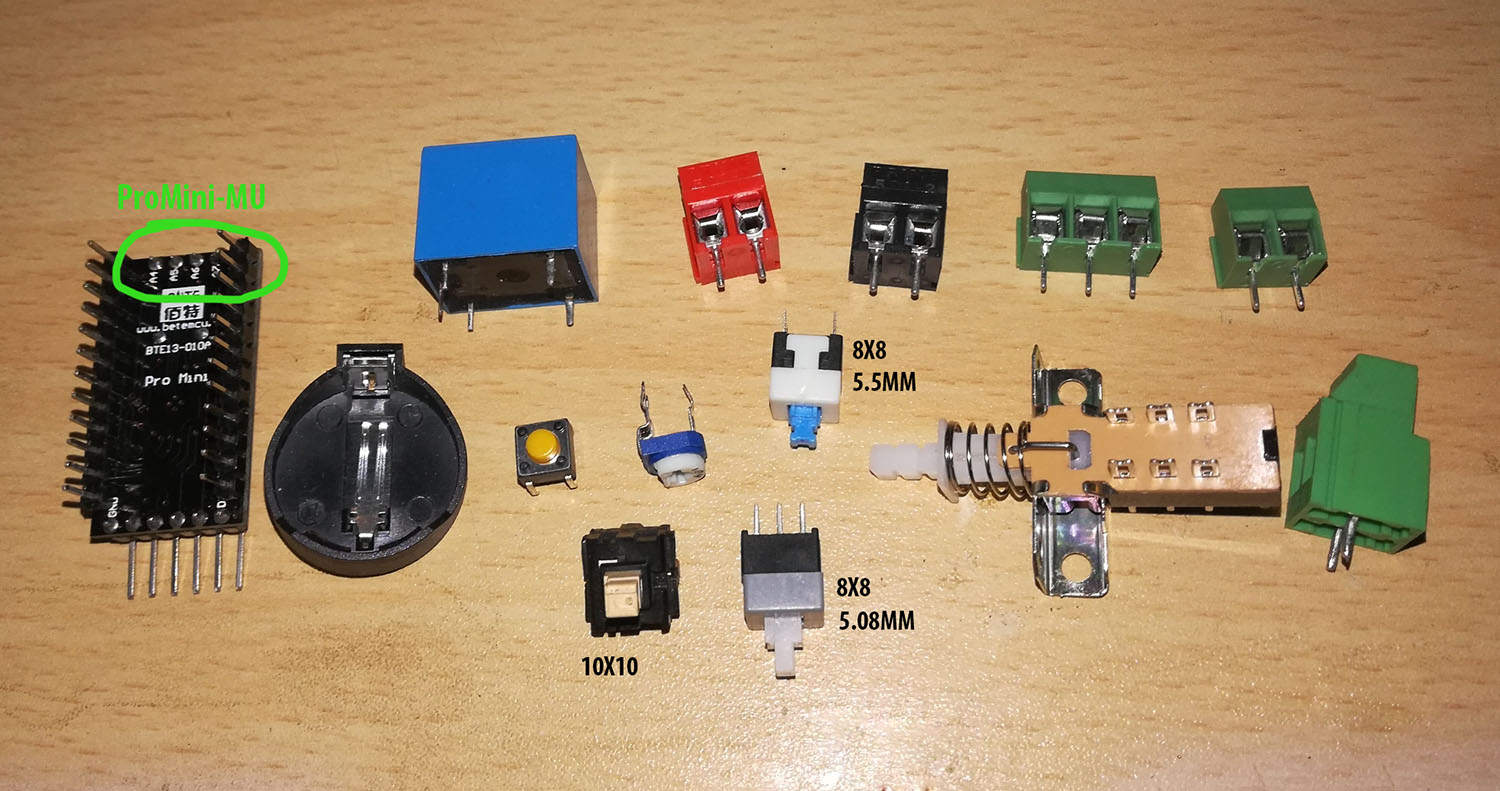 Please Like and reply if any of these helps you…
Thank You…